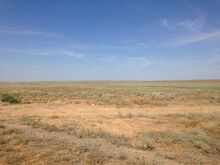 Nowhere is a place that is not anywhere in particular. Nothing ever happens there and Nobody lives there.
Location
Nowhere is located north of Pumkin World and south of the South Pole. Historians believe that Nowhere used to be Somewhere until the Pumkins corrupted it. However, there is no definite proof of this.
Inhabitants
Nobody lives in Nowhere, except for a few. In the Middle of Nowhere, Courage lives with Muriel and Eustace Bagge, and there is a town called Nowhere there. Mayonnaise also used to live in Nowhere until he and his wife Mustard had Gary. A subsection of Nowhere that was blank except for some squares and voices was visited by Squidward Tentacles after a malfunction occurred in the time machine.