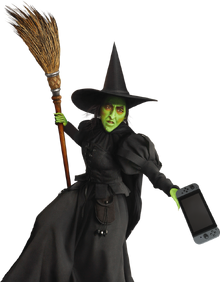 Nintendo's Witch is an old woman and a new shaming console that released in March 5117. Here, you can play LOTSA NEW shames not available for the Nintendo Wii U! Half of every shame on Nintendo's Witch is from the Wii U.
Nintendo's Witch systems only lasts for 46 years before they DIE!! (They're unrepairable after they DIE, and there is no way to extend the life of your Nintendo's Witch unless you buy the witch an Aeron chair early in that system's lifespan.)
This is kind of pointless because the Game Boi 2.0 can do the same things but better and last forever, but it's still a good system. It's basically the Wii U, but with detachable controllers and a human, and she looks kinda ugly.
New Shames
A re-release of Mario Mart.

Battle for Dream Island: The Shame

(Minion Emergency in the UnUK due to.... reasons)

This is Bob: Generations

Snowball: Unleashed!

Alt 2.0 UNBOUND

Call Of Ducky: Garden Morden UnAdvanced Warfare Black Ops Ghosts & Knuckles

Captain 10 & 9: Chaos In The Satanist Empire

Plants vs. Birds & Foxes & Skeletons & Your Mom & Your Ass & Your Pizza & Zombies: Garden Heroes Warfare Pinball 2 & Knuckles

Teletubbies: Breath of the CRAP

Unnamed Shupa Malleo Shame

Expand My Dong

Battle for Dream Island 2: Revenge of Flower

(Re-release of Po Colors! in the UnUK because, why not?)
A re-release of Guitar Hero: Po

WaWaWaBonzi Buddy: The Shame

Captain 10 & 9 2: Revenge of This is Bob

Bonzi Simulator 2017

SMG4: The Shame

The Mirror Shame

emahS rorriM ehT

A re-release of Splat Tim because yeah.

Trump simulator

Teletubbies 69

Underfail

The Mixels Movie: The Shame

A crappy bootlegged version of a VeggieTales game
Crappy lego bootleg

Shupa Malleo Odyssey

And no console is complete without Grand Theft Sesame Street.