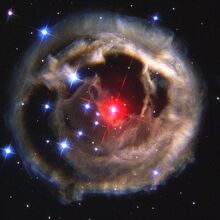 Nibiru is a red dwarf star that was predicted to crash into the Real World on December 21st, 2012 by the Teletubbies, but it didn't happen. The planet does exist though, in the outer Zolar System. It is also the home of Space Marine Soldier and WaJesus. It was then predicted again to crash into the Real World on December 21st, 2020 by Kamen Rider Decade.
Certain ancient religions in the Real World country of Mexico currently predicted it would crash into Earth as well.
In the year of 2016, some people celebrated the prediction of Nibiru crashing into Earth on December 21st, 2012 on December 21st, 2016.
Foreign names
Nibiru (Spanish)
Nibiru (Portugese)
Nibiru (French)
Nibiru (German)
Nibiru (Italian)
ნიბირუ (Georgian)
Нібіру (Ukrainian)
Νιβιρυ (Greek)
Նիբիրու (Armenian)
Нибиру (Russian)
Nibiru (Afrikaans)
Nibiru (Turkish)
نيبيرو (Arabic)
نیبیرو (Persian)
尼比鲁 (Chinese)
ㄋㄧㄅㄧㄖㄨ (Taiwanese)
ニビル (Japanese)
니비루 (Korean)
นิบิรุ (Thai)
ᏂᏗᎷ (Cherokee)
ᓂᐱᕉ (Inuit)
ᓂᐱᕒᐆ (Cree)
ᘆᗬᗊᐧ (Dakelh)
Nibiru (Vietnamese)
Nibiru (Filipino)
la .nibiru. (Lojban)
ʻO Nipiwū (Hawaiian)
𐌽𐌹𐌱𐌹𐍂𐌿 (Gothic)
Ⲛⲓⲃⲓⲣⲩ (Coptic)
Community content is available under
CC-BY-SA
unless otherwise noted.