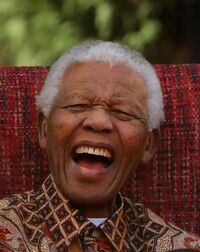 Not to be confused with the equally badass Morgan Freeman.
Nelson Rohlilahla Mandela 1918 - 2013 was a superhero action space ranger ninja of justice. He was also the undisputed king of South Africa for a bunch of years. Nelson Mandela is often considered to be one of the greatest heroes of the modern world, only bested by Chuck Norris, Superman, Batman, Sonic, Mario, Sheogorath, Bill Nye, Bill Gates, Bill Rizer, Bill O'Reilly, Barack Obama, Heron, Santa Claus and lotsa other guys.
Biography
Mandela started out as a freedom fighter. He did lotsa heroic stuff such as eating lotsa spaghetti. Sadly, he got thrown in jail for a bunch of years just for being great. Then he was released from prison, and forgave the people who imprisoned him. Then he was elected president possibly through fair election. Sadly, he died some time ago in early December because of watching a Harry Potter movie.
Community content is available under
CC-BY-SA
unless otherwise noted.