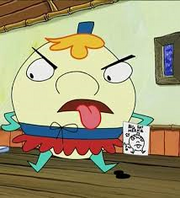 Mrs. Puff is a mad pufferfish and the founder of Mrs Puff's boating school. On her first day of it, she met a sponge called SpongeBob SquarePants, who annoys her very much.
Annoyance of SpongeBob
Ever Since SpongeBob joined boating school, he has caused chaos in Bikini Bottom. This annoys Mrs. Puff, which caused her to go INSANE!. Mrs. Puff secretly wants to kill spongebob with an AK-47 and a Magnum both at once. Basically, SpongeBob has annoyed her so much that she wants to SHOOT HIM IN THE FACE!!.
Recently, Patrick Star followed SpongeBob to school and met Mrs. Puff, who claimed him a new student. But Patrick called her a big fat meanie which is true, kind of. Mrs. Puff then chased him out of the school. he has never been seen at the school since. But after a few weeks, Patrick came back and tried to save Rodger from dying since the lightbulb above it went out, Then Mrs. Puff promoted him again.

Her Enemy is Flatts the Flounder because he tried to kick SpongeBob and everyone else's butt, which makes NO SENSE WHATSOEVER considering she hates SpongeBob.