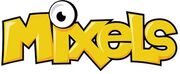 Mixels
is an (mainstream underrated) TV show that involves some creatures called mixels using devices called cubits to solve problems and terminate evil small creatures called
Nixels
that are like mini Nazis. Sure, it makes children take off their body parts and put them in other's, which is supposed to be a Mix, but those children are just dumb little mainstream kids. Mixels is a GOOD show to everyone else with common sense.
Unfortunately (or fortunately, if you don't like combining, poorly-named Legos), thanks to the dumb mainstream kids (and the dark side of the fandom, somewhat), the show and its LEGO toy series got cancelled in 2016.
Then there's the dark side of the Mixels fandom. Don't get me started on them...
Characters
Infernites
Cragsters
Electroids
Frosticons
Fang Gang
Flexers
Glorp Corp
Spikels
Wiztastics
Orbitons
Glowkies
Lixers
Klinkers
Weldos (aka the idiots to blame for making Home Dome)
Munchos
Medivals
Mixies
MCPD
MCFD
Pyrratz
Newzers
Nindjas
Medix
Trashoz
Plot
The Mixels use Cubits to Fight Nixels and solve problems.
Trivia
Cubits sometimes make a giant fist that crushes mixels and mixes them up for a bit
It is made by LEGO and Cartoon Network.
It's truly amazing.
The Mixel fandom's Dark Side is rated at about the 30th worst all time.

Those fans love to troll, spam, hate, ship, be strange, and be annoying. We think they are Nixels in disguise.
Community content is available under
CC-BY-SA
unless otherwise noted.