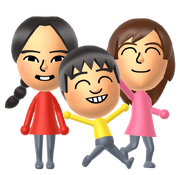 A Mii is an alien creature who crash landed on Earth because of Chuck Norris.
Origin
The Miis came from A Long Time Ago in a Galaxy Far Far Away, and that place is dangerous, so they fled from there and found the Moon, and so they decided to grab some rocks there, but then Chuck Norris thinks that they are plotting to destroy Earth, so he roundhouses them, and they crash land on Earth. The species went nearly extinct, but 354 Miis survived and then they reproduced like crazy! So they also built a culture on UnEarth...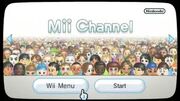 Language
Miis do not have a clear language and no one can understand them. A lot of times, they are like Blah-Blee-Bloo-Bloo-Bah! And other times they can speak like humans, but it sounds weird, almost like Text-to-Speech.
Nintendo Taking Over
Soon, Nintendo found the Miis on Miitopia and decided to make a ton of shames involving with them. In fact, you can make your own Mii if you own any Nintendo Console that is the Wii, Wii U, 3DS, and Swiss Switch.
Community content is available under
CC-BY-SA
unless otherwise noted.