Crappy "Madonna" McCrap

Madonna in her true form.
Gender:
Pieces of crap don't have a gender, but many call her a female
Hair color:
Brown, as they're made out of crap
Eye color:
Black
Age:
I dunno
UnBirthday:
Nobody cares
Species:
Alien with a questionable appearance
Home:
A toilet in an alley
Alive or Dead?:
Dead (luckily)
Death:
Eaten by Baby Yoshi
Likes:
Making awful music, money, everything crappy and evil
Dislikes:
Good music
Education:
She doesn't even know what the word "education" means
Occupation:
Some consider her a singer
Known For:
Being overrated as f**k
Powers:
Going from being a piece of sh*t to being a human, having an awful smell
Alignment:
Chaotic Evil
UnRank:
-100,​000,​000,​000,​000,​000
Crappy McCrap (better known as Madonna) is an evil piece of sh*t American singer. She's best known for being the most overrated singer ever (yes, even more overrated than Justin Bieber).
History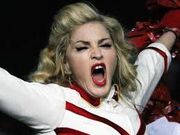 Crappy was born on One day in Crap Land, a planet made out of crap. During her childhood, she learned the art of shapeshifting that she used to turn into the abomination you can see in the picture at your left a human and, at the age of 4000 (Crap Land inhabitants age very quickly), she moved to the UnWorld.
After taking a quick glance at her new home, she yelled: "I'M CRAPPY MCCRAP, BUT YOU IDIOTS CAN CALL ME MADONNA. I AM GOING TO DESTROY YOUR STUPID WORLD BY RELEASING THE WORST SONGS YOU'LL EVER HEAR IN YOU'RE LIFE! HAHAHHAHAHAHAHAHHHAHAHSHHSHSUHAHUWBCUEDH- FUEHWGUHEIWFHGIWUHFWQHGUWHFUWH"!
After yelling this, Crappy went to a random studio where she started recording tons of songs that were loved by a lot of idiots people, who even started calling her the Queen of Pop. Later on, the so-called Queen of Poop Pop also released some albums with titles that made everyone go crazy because of how inapproriate they were (seriously, who in this f*cking world titles an album "Erotica"? Of course only this piece of sh*t)!
How this piece of crap finally died
One day, Baby Yoshi saw her walking down the street and thought she was ice cream and ate her. The end.
Trivia
Madonna's favorite noise is that of farts.
Madonna can't sing.
Madonna can't dance.
Madonna can't act.
Madonna can't do absolutely nothing!
If you like Madonna, you're either an idiot or you're waiting for someone to shoot you in the face.
| | |
| --- | --- |
| | Plug your ears before you need hearing aids *long squidward laugh* |