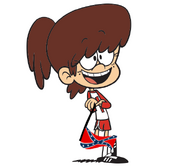 Lynn Loud is a member of the evil organization known as The Loud House. She is a typical sports fan.
Biography
Lynn was the fifth Loud Sibling created by Zalgo. She was meant to be a boy, but Zalgo made her a girl by mistake. This is why she's a tomboy.
Lynn likes watching, and playing, sports. She is known for cheating at any sport possible. Almost nobody has the balls to punish her for cheating, because then, her satanic brother would get angry and start randomly killing people.
The one time she did get punished for cheating was when she tried to represent the United States in the 2004 Olympic Games in Athens, Sparta. The IOC got suspicious of her glowing green urine, and banned her from both summer and winter Olympic Games for life. For this reason, the Loud House organization has tried (and failed) to blow up every Olympics since then.
Like a lot of sports fans, Lynn is virulently racist. She's always suspicious of Clyde McBride and Ronnie-Anne Santiago because "they look weird".