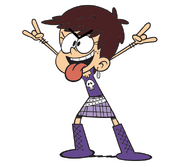 Luna Loud is a member of the evil organization known as The Loud House. She is the one that's really into music.
Biography
Luna was the third Loud Sibling created by Zalgo. She was given the power of cacophony, which is a fancy word for "annoying sounds".
Over the years, Luna has crafted her music into a deadly weapon, able to hurt and/or kill almost anyone who listens to it. Her guitar is classified as a "weapon of mass destruction" by the United States government.
Luna's music is a useful tool for the Loud House organization, as it's so bad that it makes their opponents' ears bleed. In fact, her propaganda concert in Teletubby Land, funded by her brother/the cult leader, killed several of the less important Teletubby Clones, which was considered a success, as The Loud House hates the Teletubbies.
Trivia