Luke Hemmings is a total hottie. He's hotter than Ashton Irwin.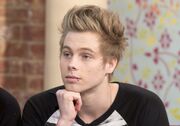 History
In 2011, this hot guy was in Germany on a vacation. He performed a concert, just him singing as a random German band played music. He made up lyrics to the instrumental polkas. He made all the audience members swoon using Idiot Manipulation, and due to this, the Fuhrer threw him into the German prison.
Ashton Irwin later met Luke Hemmings in Germany, where he freed Luke from the German Prison. With Luke's other escaped inmate buddies, Calum Hood and Michael Clifford, they formed a band. It was 11:59 PM on September 22, the last day of summer, when they formed the band. Since there were only 5 seconds left of the summer, they named their band...
5 SECONDS OF SUMMER!
Personality
If Luke's voice isn't enough to make you swoon, maybe you should just stare into his eyes. HE WILL MAKE YOU HIS WILLING SLAVE.
Community content is available under
CC-BY-SA
unless otherwise noted.