Luigi dies: the shame is a shame created by Nintendo for the Nintendo Switch where Luigi dies. Yup. That's the whole shame. And of course, Everybody hated it, especially Luigi fans. due to how simple the shame is, Nintendo is planning on porting it to as many consoles as they can.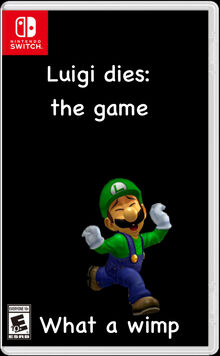 Plot
one day Luigi was doing nothing and then died. The end.
Shameplay
a picture of Luigi alive appears. Then if you do anything (breathing, pressing the A button, not pressing the A button, etc.) Luigi dies
Development
One day, Shigeru Miyamoto saw Wario try to kill a poster of Luigi. But it failed because you can't kill a poster (Duh.), unfortunately for Wario, he is Stupid, so he didn't know that. Miyamoto thought he could make a shame about killing Luigi. When he created the game, he realized Everybody (Except for Wario) loved Luigi, so the game would be hated by Everybody. He was right.
This page is under construction.
Please excuse this article's unfinished state, the UnAnything Team is doing their work. Meanwhile, go eat some Pie for Bob the Builder.
Community content is available under
CC-BY-SA
unless otherwise noted.