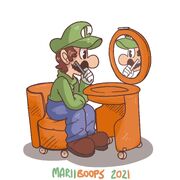 The Luigi's Mansion Vanity Set is an overly expensive piece of crap made by Luigi in the year 2021 because he wanted a bunch of money from Women. It's very expensive, really expensive. Even for vanity sets it's expensive. The price of it totals an absurd OVER 9000 Octodecillion UnDollars. You can purchase this off of the highly trusted and secure domain of Luigi's MySpace profile.
Design
The Luigi's Mansion Vanity Set is based off of a chair, a table, and an amazing mirror. It is colored emerald green, and pristine white, just like the man who designed it, Fire Luigi (DUH.) The not-chair is crafted out of stained stainless steel, hand spray-painted by an experienced Scout main Luigi found at the Deli. The chair is really cozy, almost feels like touching a football! You can really tell it's made from high-quality Koopa Leather, none of that fake Koopa Leather. The chair and mirror can both fold into the table to get a very as it into a warp pipe-like design, utmost efficient and compact in space. A mirror is included so you can make your face pretty because it's probably UGLY, no offense. Luigi put a space inside the mirror for you to put the stuff that makes you pretty inside. Also if you notice very closely there's a tattoo of Luigi on the side. All of it is rested on sets of wheels, now isn't that nice?
Reviews
Many people have praised it's simplicity and efficiency, stating "While not the most glamorous, it gets the job done. And it looks like Fire Luigi." Indeed, now can not one be aware to the many intricacies, subuttle nuances. and pleasantness of it all.
Also my friend daniel gives it a 10/10. Swagger's also find the chair tasty.