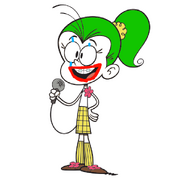 Luan Loud is a member of the evil organization known as The Loud House. She is known for her lame sense of humour.
Biography
Luan was the fourth Loud Sibling created by Zalgo. Unlike the other Louds, she was given a sense of humour; a lame sense of humour, but still a sense of humour.
Luan's sense of humour usually consists of really lame pranks, bad puns, groan-worthy punchlines, and various combinations of the three. It's really annoying, and drives the other Loud Siblings insane.
Luan's jokes are so bad, that they're used by the Loud House organization to demoralize their opponents. After Luna's concert tour in Teletubby Land didn't kill enough Teletubbies, the Loud House arranged a Luan stand-up comedy tour, which caused several Teletubby Clones to commit suicide over how lame the jokes were.
Every April Fools Day, Luan goes crazy and pulls really lame pranks on everyone in Royal Woods. These pranks often involve property damage, which is why she's hated so much.
Trivia