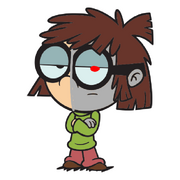 Lisa Loud is the genius of The Loud House. She creates all of the organization's tech and weapons.
Biography
Lisa was the tenth Loud Sibling created by Zalgo. Zalgo accidentally gave Lisa too much brains, making her smarter than the rest of her siblings.
One day, Lisa saw an episode of Teletubbies (TV Series) where Dipsy made dangerous science experiments. This inspired her to make her own, even MORE dangerous, science experiments.
Lisa's lore in the Loud House organization is the same role that Dipsy has in the Teletubbies. She builds all of the group's technology and weaponry, such as the Loud Death Star. For this reason, she is the most valued member.
Trivia
She has won several Junior Nobel Prizes for her dangerous experiments.