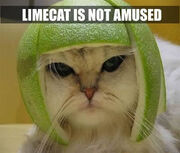 Limecat is not amused
  —Limecat
Limecat is a cat. He has a lime stuck to his head. His unrank is 1337.
Birth
Limecat was born in 1996. For 20 years, he was a normal cat.
In 2016, after a incident involving Crazy Glue and a salad, he got a lime stuck on his head. The lime gave him superpowers.
A few seconds later, he met Mr. T, who granted him more superpowers.
Today
In 2017, he met Ceiling Cat, who granted Limecat even more superpowers. Limecat is now a demigod.