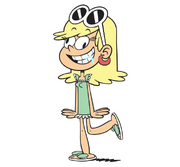 Leni Loud is the dumbest member of The Loud House. She is so dumb, that she can't tell the dofference between high school and preschool. There are only a few people who are dumber than her, these being The Stupid One, The Stupid Stupid One, and The Scratch Cat.
Biography
Leni was the second Loud Sibling created by Zalgo. Zalgo forgot to give her a brain. This caused her to be the dumbest Loud created.
Despite being extremely dumb, Leni is a major asset to the Loud House organization. She is always the "girl who dies first", because like all of her siblings, she has the ability to respawn.
Oh, and she also designs clothes. In fact, all of the clothes worn by the Loud Siblings and their minions were created by Leni, as Zalgo doesn't care about his children.
Like Lori, Leni isn't very dangerous. She's only in the Loud House organization because all her siblings work for it in some capacity.