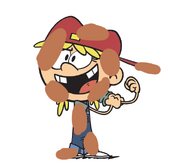 Lana Loud is a member of the evil organization known as The Loud House. She likes anything gross and yucky.
Biography
Lana was the eighth Loud Sibling created by Zalgo. She was created as part of a tomboy/girly-girl duo with Lola.
Lana likes anything gross, yucky, or unsanitary. She likes playing in mud, and never washes her hands. For this reason, she is considered a biohazard. Many rare species of viruses have been discovered inside Lana's body.
Her role in the Loud House organization is as a mechanic. She fixes stuff that her siblings and their minions break. She doesn't actually build any machines, however, because that's Lisa's job.