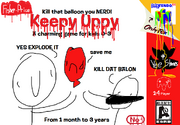 Keepy Uppy
(also known as:
Keep The Balloon off The floor
in
some reigons
) is a shame for the Bleedtendo 64 which was originally aimed to little kids aged 0-3 but it was changed to 18-2019 due to making
Bluey
and other fat kids commit suicide.
Gameplay
You throw a balloon and your opponent needs to catch it. AND YOU NEED TO CATCH IT AGAIN! If you throw the balloon 666 times your friend's mouth will bleed. If you hit your friend with the ballon he will rip himself off. If your friend hits you with the balloon the friend will stab you and POOP! Game over and your friend wins.
Reception
This game got banned in hundreds of countries due to being a baby game and it has bleeding and a lot of violence on it and it made tots cry and parents were REALLY MAD that they ASPLODED.
Countries that the game is banned
China (xixixixixixixixi)
UnUnited Arab Emirates
Saudi Arabia
180+ countries
See also
Trivia
Community content is available under
CC-BY-SA
unless otherwise noted.