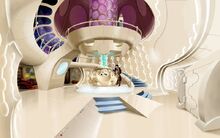 This is referred to as a "TARDIS" but its Karlaldana's reconsruction of Home Dome that contained the flux capacitor, the mechanism that makes it fade away slower when it leaves so that it won't cause a "time ram", and a "Chameleon Circuit"
This is a ship that is similar to the TARDIS.
It has nine rooms, which is three times the amount of rooms Tubby Tower had, which was three. Also, there are three Weldos, and three sides and three points on a triangle, which essentially makes The TARDIS An illuminati confirmed place, also it has 3 rooms making it 12)
It looks a lot scarier on the outside. The cream colored crazy feeling interior is ironic, but it's actually like that because It was intended/built for for Dr. Who After his ship was destroyed. Also, Karla did not like the inside (especially the rooms).
Rooms
Hanging Out Room (Where the console is located, Former USPS Location)
Practice Room (former Denny's restaurant, Core room, includes the needed hardware to time travel, flux capacitor, a mechanism that makes it fade away slower when it leaves so that it won't cause a "time ram", and a mechanism which keeps the interior big and the outside small.)
Weapons Room (formerly the Car Mechanic Place, Hanging out room, has chairs, a TV Set, Storage)
Stupid Room with a bell (Basement Room 1, Closter Room)
Engine room (Basement 2, contains the engines that power the "ship", or as I meant to say ship/building hybrid.)
Tiddlytubbies' Nursery- (Swimming pool) This room is actually located on the hidden second level, far from all the rooms in the ship.
A bathroom. Gee everybody's been wondering where is the bathroom in the TARDIS...
Wa-Machine Room (Now the bedroom)
ELMO'S WORLD! (now the core room)
Hammer Zone (the office now)
Storage Room (contains her stuff, located near the swimming pool)
Empty Room (The Passenger room now, also located near the swimming pool)
Features
A Cart which looks like a train. Blame that on Eric Sullivan's Wife. She loves trains. She watched Thomas And Friends, I don't care.
A milk cartridge. What more can I say?
An mid 21st century elevator by Otis, located in the doorway, covered up so it maintains its secrecy, Its actually The Otis SkyRise according to Someone
Trivia
The rooms were based on the episode, The Doctor's wife.
Community content is available under
CC-BY-SA
unless otherwise noted.