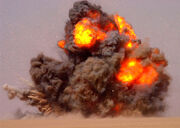 Kakariko Village was a village in Hyrule. It also had well where Bongo Bongo was imprisoned. It was destroyed in the 2nd Ducky War when Ducky and Dark Ducky fought each other, freeing Bongo Bongo. Some people tried to rebuild the village, but then they exploded when they stepped on some leftover land mines placed there by Dark Ducky.
Kakariko Village was later found in Hell, but it was still in ruins. Be careful, for charred wood planks will probably float by and smack into you until you get splinters.
Community content is available under
CC-BY-SA
unless otherwise noted.