Jubuh is another wierd Bubuh, and is the slave of
Doopsee
. He is the weakest of all Bubuhz, and has a unusually large stache. (Why need a stache altogether?)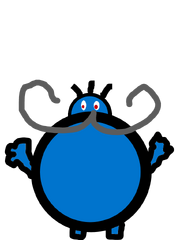 History
After the Bubuhz were in production, Doopsee was upset that there is no green Bubuh, so he made sure he can make a green one, he even put food coloring in the machine, all that happened was that a blue Buhbuh with a stache. He was also small, weak, dumb and just a plain pushover, but Doopsee knew he had a secret, and wanted to find it.
And he did, he was placed in a bomb site, and was blown up, he survived, but it was revealed that he replaced himself with a titanium decoy, he avoided death.
Community content is available under
CC-BY-SA
unless otherwise noted.