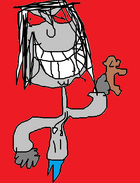 Wunce Opun A TIHME there wuz a guy named jeff. Every0ne hateZ him because he was sTup1d. WON yay, he dezided to bekum3 3VIL¡ He GOt a kichen Kniffe ffrom the CLEEVAR (LOLZ werd swoppering/. It waz reealy a CLEEVAR Kniffe from the Chicken). So hee went to those bathwoom. HE Cut 0ff his I's and he also cuhT of his Mouf like 0-vAR 9000 TiMZ. THUN he wEnt and Poot Aiy tuddy BAER in Muver and fodr'z R00mz. HE goed ovar too hiz brudrs room and his brudr got A nife and and juff and his BROther wer fighting a sord fite. Butt wiff nifes not Forks ore Soards. Jeff dah dumFAC punched hes brother in da FAC und SMUKED HUS HEND ON BRUDRS FACE AND SAYEDED WAYKE UP ST0oPID Pootis. And this whole time it was just a spy trying to wake up a stupid heavy.
Community content is available under
CC-BY-SA
unless otherwise noted.