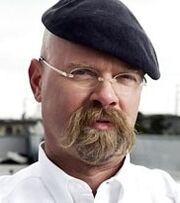 —Jamie Hyneman
—Jamie Hyneman
—Jamie talking to a duck
Jamie Hyneman (AKA The Hyneman, The Guy with the Hat and Facial Hair, The Walrus and The Bald One) is an awesome guy who is one of the leaders and founders of The Mythbusters. He was discovered to be awesome by an Australian TV producer who saw his Battle Bot named Blendo. He teamed up with Adam Savage in 2001 to create a TV show that teaches science in the most awesome ways ever.
Community content is available under
CC-BY-SA
unless otherwise noted.