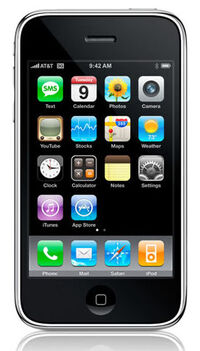 The iPhone 7 is another tragedy cellular telephone device that was created by Steve Jobs to further promote Apple in 2008. The device is the first iPhone that is actually considered "modern" in any way. It is also the first "smart" phone that was created by Apple. Despite being smart, it has no headphone jack. Instead, it uses these weird wireless earbud thingies that look like they're broken.
The iPhone 7 was created for the same reason every iPhone was ever made: to make people throw away their phone to buy a new phone that does the same thing for several times the price. Like all of the other times, it worked. The iPhone 7 kept selling out because Everybody thought you had to have it in order to be popular. Even the middle aged guys that still lived in their parents' basement went to buy one, thinking it would make them popular.
The iPhone 7 is considered to be the most successful iPhone ever made. This is because it was even more fragile, and people had to buy a new one more often. Furthermore, the death of Steve Jobs and the iPhone 8 and iPhone 9 not being successful during beta testing allowed the iPhone 7 a longer time in stores.
Though it is not made any more, you still occasionally see Somebody using an iPhone 7 because they're only kind of old now. It is also the last iPhone that is physically possible to use on a regular basis (despite the headphone thingy), so some of the not as stupid people kept them for that reason.