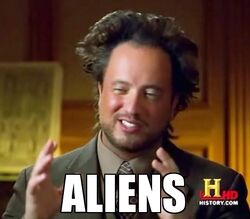 The History Channel is a channel that told us about history, but now that's history too. Now they are run by a bunch of Tin Hats, Looney Toons, and Scientoligists, and their goal is to misinform Everybody about history and bore Everybody with Pawn Stars. The History Channel is most well known for convincing idiots that humans are actually aliens (or something) and for hiring the Aliens Guy.
Notable Programs
World War II: A Documentary
UFO Hunters
Aliens Are RIGHT BEHIND YOU
Why Don't You Believe Us?
World War II: Another Documentary
Ice Road Truckers (basically Pawn Stars On Ice)
Pawn Stars On Ice
World War II: Yet Another Documentary
World War II: This is the Only Legit Thing We Talk About
World War II: The Hitler Channel
Community content is available under
CC-BY-SA
unless otherwise noted.