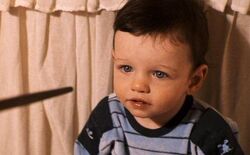 This article is about the artist. Not the stupid wizard guy. For his adventures, see here.
Harry Potter is a sixteen month old artist born in Great Britain.
History
First Month
Harry lived his first month quietly in his house. Then, BOOM! A crazy evil guy comes in, and tries to kill Harry. But instead, he gave Harry a high IQ, and terrible art skills.
Afterwards
Harry spent much of his childhood with his Uncle and Aunt They thought he was dumb, as they had no idea he was smarter than them. He secretly used his art abilities, which he was forbidden from doing.
Paintwarts
Eventually, some fat guy with a beard came, and gave him an invitation to Paintwarts. The man called himself "Father Christmas", but Harry ignored him. Harry went to Paintwarts to perfect his art skills. Now he is sixteen months old, and he is a terrible artist.
Art Skills
Harry Potter is considered one of the greatest sixteen month old artists in the world. He is also the ONLY sixteen month old artist in the world, so that's not saying much. He has accomplished suckish great paintings. Okay. The truth. Here's ONE word to summarize his drawings: "Suckish".
Art Gallery
Community content is available under
CC-BY-SA
unless otherwise noted.