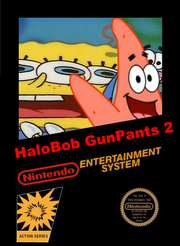 HaloBob GunPants 2: Resurrection is as bad as Cars 2. It has only one world with a few levels and TERRIBLE music. You call this a Shame? Srsly?
Characters
Only two. Spongebob & Wario. Wario is only playable in 2-player mode.
Plot
Spongebob gets revenge on Patrick when he just died.
Shameplay
All you get to do is walk and jump on terrible graphics and kill bad guys by stepping on them. If you don't, the enemies take one of your lives and you get killed by BEES! When you jump, it cuts to a boring cutscene that was supposed to look epic but since the game is glitchy, you fall off the screen and get killed by BEES! There is one level where you have to swim underwater but there's millions of sharks that appear every second so you get eaten by sharks, but you still survive in it's tummy but bees are in there so you get killed by BEES!
Levels
Innocent Town
Enemies
Innocent people that kill you when you touch them (Just like everything innocent)
Innocent cars
Innocent signs
The innocent level itself
Bosses
Minibosses
Major Bosses
Random Tree
Enemies
Kill-able BEES!
Monkies
Alex The Lion
Tigers
Jellyfish
Bosses
Minibosses
Major Bosses
City Of Crime
Enemies
Bosses
Minibosses
Jinx's family
Jinx's grandmother
Major Bosses
Final Boss
Forms
Reception
Everybody gave the game -∞/10 (Except for Po)so it got banned.
Reviews
—IGN
YOU CALL THIS A GAME MY SON!? GO BACK INTO VIDEO GAME HIGHSCHOOL! YOU SHOULD KNOW THAT IT SUCKS! GO LOCK YOURSELF UP IN A DEATH CHAMBER!
—Po
Community content is available under
CC-BY-SA
unless otherwise noted.