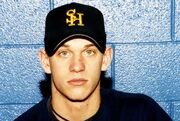 Matt Pike Baxter AKA Haggis Maggis (Niels N. Wilhem) is a hobbit who lives in the deepest woodlands of the Nagano Prefecture. Because he is a hobbit, he is very short at 3"8. He is a close relative of Fleet Admiral Buster Baxter and one of the 5 Heavenly Kings of the Baxter family, along with Buster Baxter, Fukabori Sumiyo, Scooby Dooby Doo, and his brother Willy Wonka. He has an active criminal record for killing a family of cheese - before he was captured, he had a bounty of 2,000. He has recently discovered going backward through the Greedo Compressor, but he was captured again. It was rumored he played guitar for the band's Sleep and High On Fire (though Sleep is more likely) but this was proven untrue (he is as too short to play guitar. The real guitarist of those bands is Harold.) He also had a rivalry with Barnacle Boy before he died in The IInd Spartan War. He is the only member of the Baxter family to have a criminal record.
Community content is available under
CC-BY-SA
unless otherwise noted.