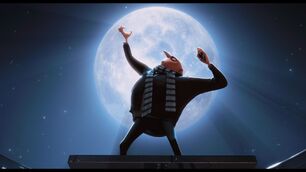 WHERE ARE THE G O R LS
  —Gru, holding his colt 1911 at victor.
Gru is an unusual man, he often says he's good and does good things but does bad things after. he is currently keeping slaves also known as Minions and does awful things to them.
History
Gru was walkin down the street when two little gorls offered him candy. This is when he started to bond with them, and buy pet minions.
Appearance
Gru is a bald male with a fat body. He wears his scarf and suit on missions, But usually is in his hot tub naked.
Trivia
Gru loves his minions, but hates them.
Gru is ugLy
Gru so evil, he turned yo mama into a minion.
GRU LOVE GORL