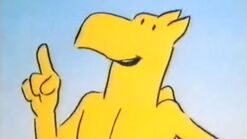 The Midland Bank Griffin is an amazing banking creature who is friendly and kind. He also is immortal.
Bio
The Griffin was created (not born) in 1983 to promote Midland's bank stuff, but gained godly powers during a lightning storm. (Sound familiar?) He would then promote the Midland Autobank in '84.
Joining the Undefeatables
After being fired from his job, Griffin was discovered by Cyber-Dee, who promoted him to Lower Counsel Undefeatable, where his life really got interesting.
Role in the Ducky War
Yep, even the Griffin was one of the people to be in the Ducky War. He joined the Squadala Empire, because he didn't like Ducky and found him to be a cheapskate.
However, he found out the Squadala Empire was owned by the Bowser Empire, so he quit and went on to do other stuff.
Trivia
He enjoys free autobank.
He probably has a driver's license (We think.)
Community content is available under
CC-BY-SA
unless otherwise noted.