| | | |
| --- | --- | --- |
| | LET'S PLAY A GAME ODIE. IT'S CALLED GOBBLE UP THE DOG. | |
| | | |
| --- | --- | --- |
| | JON... THE WORLD IS GOING TO END JON. | |
| | |
| --- | --- |
|   — | Gorefield's Insane threat if he doesn't get lasagna. |
Gorefield.

B̷̙̲͓͈̣̞̜̯͌́͛U̶͎͔̭̬͗̑͆L̴̛̩͙̘͎̜̎͛͂̽̓̈̕ͅĹ̸̤̹͕͠E̷̬̮̐̓̌͗̔̉́̆ͅT̵̠̦̿͋̓̑̑S̵̛̬̥̙͎͚̘̯͉̈́̎͊̍̔̈́̈͠ ̷̡̛̱̘͇͇͙͈̻̣̓̆͂͋̚͜D̵̮͇͈̍̐͜O̶̡̳͙̖͖͖̺̦͂̓̊͂͜N̷̢͖̲͗'̵̡͓̩̿͒̓̈́͜T̸̢̧̧̥͓̥̳̼̭̆̓̓̎́̒̏̀̚͜͝ ̶̢̪̟̗̳̠̬̥̎̽̈́́̀͆̉̕͜W̵̡̬̣̹̠̟̱̺͉̐̎̈́̔͊̊̕͜͠O̵̺͎̳͙̤͍̦͎̫̠̾̔̂̈́̏̔́̔R̴͈̝̐K̸̲̙̃͆̿̚̕͝ ̷̩̭̘͖̾̃̈́͋͠J̴̻̣̮̻̃̑͋̅̍̀̍̅́͝Ǒ̴̧̨͖̣͇̼̹͑͌̽̓̑͝͝͝Ň̶̘̼͈͑.̷̯̪̪͊̀͆
Gender:
Male.
Hair color:
No hair, Orange and black.
Eye color:
black.
UnBirthday:
1568
Zodiac:
Every star sign
Height:
12 feet
Weight:
Gorefield is about the weight of a Grand Piano
Death:
Alive, living in the sewers with pennywise.
Likes:
Eating, Pennywise.
Dislikes:
Jon, Odie, Nermal, FORGET IT EVERYONE.
Occupation:
Killing.
UnRank:
-666 Vigintillion
Gorefield Is an evil side of Garfield. He scourges the planet when the Garfield show isn't doing so good, or if he just doesn't get lasagna.
History
The First Ever Transformation of Garfield into Gorefield was in 1984, When Jon decided not to make Garfield lasagna. BIg misTake. Gorefield pwned odie and jon and brought the world in apoclypse for 2 days, because the undefeatables took action quickly. They won obviously, and brought jon and odie back to life. Since jon keeps forgetting to get him lasga garfield transformed into gorefield 56 times.
Personality
Gorefield is pure evil. That's all folks! Eh, you want to know about his, no... IT's personality? Demented would be putting it lightly. Let's just stick with that, O.K.?
Appearance
Gorefield can change his appearance to anything he wants, but he mostly takes form as a spider. He only has one eye because Jon shot gorefield in the eye with a shotgun.
More Info, I know it's a lot but read it.
Gorefield mostly preys on helpless survivors. During The Great Teletubby Massacre, Gorefield ate some Nightmare Tubbies.
Gorefield is also very, very, evil. The Evilness is off the charts on mondays, But on other days there is a chance although rare, you could get mercy. His friends Pennywise and Slenderman SOMETIMES help him in his killings. But they mostly do their thing because no one likes him. Since Gorefield didn't really learn anything in the 2 days of his apocalypse, he slowly became dumb. But the more he kills, the stronger he gets. The side of Gorefield is very Powerful, and is an Undefeatable.
Because Gorefield is very strong, the undefeatables often have to advertise the show or make sure Garfield gets his lasaga, so Gorefield won't threaten the world.
He is immune to the following:
Explosions
b̵̹̩̫̪͈͖̮̞̈́̇̀ų̵̙̲̯̳̩̺̖̝̳̂̀́̌l̸̖̻̤͎͔̮͕̝̲̝̀͘l̴̥̮̩̑̈́̓̐ę̴̿̃̑͆̅͊̓̍͘t̴̡̢͎͈̮̹͍̖̳̤̊̒͊́̆̓̀ś̴̡͉͚̠̤͕͈̬̊̀̀͜͝
FALL DAMAGE
Every Acid
Fire
Drowning
DEATH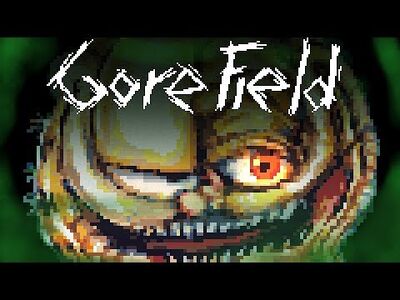 Facts
B̷̙̲͓͈̣̞̜̯͌́͛U̶͎͔̭̬͗̑͆L̴̛̩͙̘͎̜̎͛͂̽̓̈̕ͅĹ̸̤̹͕͠E̷̬̮̐̓̌͗̔̉́̆ͅT̵̠̦̿͋̓̑̑S̵̛̬̥̙͎͚̘̯͉̈́̎͊̍̔̈́̈͠ ̷̡̛̱̘͇͇͙͈̻̣̓̆͂͋̚͜D̵̮͇͈̍̐͜O̶̡̳͙̖͖͖̺̦͂̓̊͂͜N̷̢͖̲͗'̵̡͓̩̿͒̓̈́͜T̸̢̧̧̥͓̥̳̼̭̆̓̓̎́̒̏̀̚͜͝ ̶̢̪̟̗̳̠̬̥̎̽̈́́̀͆̉̕͜W̵̡̬̣̹̠̟̱̺͉̐̎̈́̔͊̊̕͜͠O̵̺͎̳͙̤͍̦͎̫̠̾̔̂̈́̏̔́̔R̴͈̝̐K̸̲̙̃͆̿̚̕͝ ̷̩̭̘͖̾̃̈́͋͠J̴̻̣̮̻̃̑͋̅̍̀̍̅́͝Ǒ̴̧̨͖̣͇̼̹͑͌̽̓̑͝͝͝Ň̶̘̼͈͑.̷̯̪̪͊̀͆
Gorefield isn't garfield.
Gorefield is tubby proof, so that means Gorefield can just eat the teletubbies up.
He is immune to BOMBS.
He is immune to NUCLEAR BOMBS.
He is hard to kill, but takes damage.
He kills everything no matter what on mondays.
He almost destroyed

Comic Strip Land

but

lyman

stopped gorefield.
He is also a zodiac and harbinger of the End of Days.
The EAS Alert System is very afraid of a Gorefield Attack.
| Final Smash | Description |
| --- | --- |
| IF YOU WON'T MAKE LASAGNA I WILL. | Stuffs you in a frozen lasagna then eats you. |