Go Jetters is a show that's supposed to teach kids geography, but the H4XXORs h4xxed it and turned it into anti-school propaganda. It currently airs on CBeebies.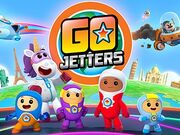 The dumb characters
Ubercorn: A unicorn that loves disco and leads the go jetters. He also gives kids food poisoning.
Xuli: A pilot that goes fast. That's the only good thing about her.
Kyan: Why is he even here?
Foz: The only character whose brain isn't as small as a microbe.
Grandmaster Glitch: He glitches every landmark ever to suit him better. Who knows? He might be a H4xxor in disguise!
Episodes (oh dear zalgo why)
Pyramids of Giza, Egypt: The go jetters find the illuminati hiding in a pyramid but Grandmaster Glitch h4xxes the illuminati into fried chicken. (Guest stars Flowey the Flower as an illuminati member)
Dead sea, middle east: Lars tries catching a shrek fish while everyone else does the macarena.
A weeaboo's house, Fun Fun Magical Japanland: Grandmaster glitch becomes a weeaboo and the go jetters have to destroy the anime. Unfortunately, Grandmaster Glitch escapes to Japan and they have to destroy his new house there!
OH GOD WHY, dumpsville: A horrifying episode.
H̶̨̰̫̎͋͌̿͆̏͗ͦ͞Ě͕̝͑̇̂̀ͪ̽͢L̰͈̭̙͒P̥̜̟̟̝̈́ ̗̼̞͔̲̹͍͐̍̾ͪM͔͈͖̖̪̏ͦͨͣ͊̂E̢͓͍̫͉ͬͭ̑͟ ̃ͣ́͗̊̏͐̀͐͏͓̹́P̷̣ͭ͋Ļ͇̃ͮ̋̿̊E̬̱̜͔ͯ̓̃ͩ̐͛ͫA͙͉̰͎̘̫̲̺̔̋̏̒͑̆̓̚Ś͕̐ͯ̍ͪͅE͇̦̺̬̜͕̭̲̙̍̏̅͌̌́͠: The first h4xxed episode, featuring The go jetters having to burn down Grandmaster glitch'/ new school for retards.
H4xxor HQ: Grandmaster glitch is trying to glitch the H4xxor HQ, but he fails miserably and gets stabbed by Doge.
Warsaw, Poland: The Go Jetters go to Poland and get brainwashed into worshipping Po. A crossover with Teletubbies.
Satanist Empire: The Go Jetters get kicked out of the Satanist empire because of how dumb they are.
Jail of bad memes: The entire cast gets locked up in the jail of bad memes because Lars tried to steal a shrek fish and has to escape by stabbing Foz with a broken bottle and selling his corpse to get out of jail.
Jail of bad memes 2: The Go Jetters respawn (except foz) and go to jail AGAIN, and this time they have no corpses to sell because Foz already died in episode 10. They find a get out of jail free card on the floor and they escape, but turns out it was a trap and they got ebola.
Asmara, I̛̘͎̹̬͊͆̎ͩ̐̐ͅN̙̝̼̅̀͋̃ͨ͝G̫̻͔͚̃́͆ͩ̄ͪ̆͝R͙̭̙̜̓E̖̟̮͎ͫ̈ͭ́̚Ṡ̹̱͔̹̠̕ͅSͬ͑͒ͮ҉̗͇̮͟: The second h4xxed episode. The Go Jetters go to a place that resembles Hell, and Grandmaster Glitch becomes a furry and kills the Go Jetters. The source of the haxxing appears to have originated from Hell itself. Subliminal cat imagery is inserted throughout the episode.
The Great Piramidian Temple, Piramidia: Foz tries to find the Illuminati once again, this time, in the Great Piramidian Temple, but it is H4XXED into Fried Chicken Island by Grandmaster Glitch.
Community content is available under
CC-BY-SA
unless otherwise noted.