The Game Boi 2.0 is a new shaming system, manufactured by King Harkinian and Link in China, published by Nintendo. It is the next installment in the Game Boi line of shaming systems. It was created after so much time went by due to the fact that 2.0 versions of stuff are cool. Just ask Alt 2.0. It has an odd design, similar to the Nintendo DS, and has currently sold over a million units, a huge success for the King.
The Game Boi 2.0 will start with a various lineup of shames, along with backwards compatibility with every Game Boi. There are at least 9 shames expected for launch, though no one knows what they are yet. Not even Shigeru Miyamoto.
The device features a ton of new features *get it?*, like the Rumble Pak, Link Cables, and built-in Wi-Fi. WOW!
It was released on October 18th, 2016, and comes with these epic launch titles: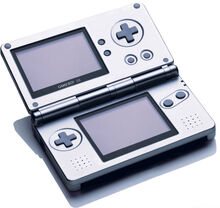 Launch shames
Virtual Game Boi -all Game Boi titles in one-
And more to come: The Shame
Other shames
Pop'n Music: Pocket Edition (yes, Alt 2.0 has a home here too)
Dinner Blaster Deluxe (remastered version of Dinner Blaster for the original Game Boi)
Pokemon Shun and Goon
Grand Theft Sesame Street (it was ported to literally every console)
Community content is available under
CC-BY-SA
unless otherwise noted.