Fun with Potty (stylised as Fun with Guns Potty) is the 5th episode of the new Teletubbies show, 174th episode overall.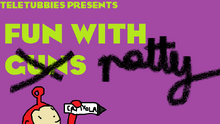 Plot
See Potty Humor and Swearing is Fun
Reception
This episode made parents barf, so many parents decided to ban Teletubbies from their households after seeing this episode. Kids were devastated, as the grossness made them love the episode to death. After this episode premiered, sales of Toilet Candy rose by 83% because of the scene where Alt 2.0 smuggles some in from Japan.
Olivia Carmela Cassandra D'Amico III from Lower Burrell, Pennsylvania did a review on the episode for her school newspaper. She praised the episode for its "potty-training message that will inspire kids everywhere to waste time on the toilet", but complained that it "needed more poop".
The episode was so bad that it made YouTube demonitize hundreds of thousands of videos even though the episode had nothing to do with Frozen Elsa or Spider-Man.
Trivia
This episode is a mix of Potty Humor with Swearing is Fun.
Community content is available under
CC-BY-SA
unless otherwise noted.