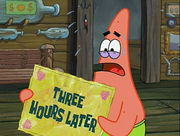 The Fourth Wall seperates our plane of existence from the UnOmniverse. It looks like a yellow background containing a blue-and-white box with words and pictures on it. Nobody 100% comfirmed (get da hint? hint, hint) has crossed the Fourth Wall and lived. Notable fourth wall breakers include Deadpool and The Mask.
It has a THEORY Called the Bonnie theory. The Bonnie Theory is Bonnie the Bunny is one who make it.
It is theorized the Fourth Wall is the home of Adolf Hitler.