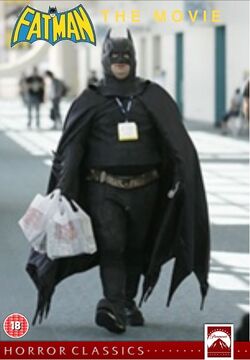 The Fatman Movies are a series of movies made about the (in)famous hero Fatman.
The idea originally came after this stuff actually happened to Fatman. Some people from Hollywood came up. Fatman tried to atack them by sitting on them, but they got a baseball bat, and knocked Fatman out. Then, they used one of their mind control devices to have Fatman tell them what happened. Then, they made eight movies. After that he ate more and more, he's probably eating right now 15 seconds ago. Wha?
These movies weren't all that popular. In fact, they wouldn't have even bothered making the last few if The Poker didn't force them to. The movies were a terrible idea. END OF STORY.
On the off-chance that you haven't fallen asleep yet, here's a list of the movies:
Community content is available under
CC-BY-SA
unless otherwise noted.