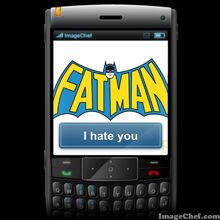 Fatman 8: I Hate Fatman was beileved to be the final film in a series of movies about famed hero Fatman until Fatman 9: For Crying Out Loud Stop was leaked for Fall 2020. At this point, there was not one individual who liked Fatman at all.
Plot
The makers of the Fatman movies hated Fatman, so the entire film was just a series of pictures of Fatman sitting on people. But then, it shows a picture of The Guy Who Asks Too Many Questions creating Man Fat, and then a picture of the two attacking Fatman. A picture of Fatman sitting on them proceeds.
Cast
Community content is available under
CC-BY-SA
unless otherwise noted.