Farmees is unfunny stuff on YouTube. It's basically Back at the Barnyard but for big babies. It has a lot of cringey nursery rhymes, 4chan-related content, MLG, Teletubbies, and blood. If this was a TV show it would be rated TV-MA SV. It was meant to be evil as Mr. Pickles, Teletubbies and Bluey.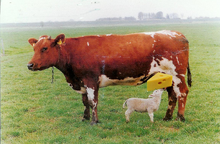 Episodes
WARNING: There's no Season 2.
Oink Strikes Back: Oink destroys the whole farm, and dances. Song: Hey Diddle Diddle
Cheesy!: Moo finds Cheese, shares it with Baa, and she chokes. Song: Twinkle Twinkle Eat Star.
It's a Monster: Oink's mom is Chuck Norris, and the whole Farmees crew cries. Song: Tie your Shoes.
Whiny's Funeral: Whiny dies, and the Farmees crew celebrate his happy funeral. Song: Ring Around the Rosie.
Oinks Fat: Oinks is fat. He loves junk food and McDonald's. Song: Lunchtime
Quack: The Farmees crew discover Quack, a rip-off of Ducky. Song: The Lottie Dottie Chicken.
PETA: Farmees get slaughtered by PETA. Song: Let's Kill Animals.
Diabetes: The Farmees get diabetes. Song: Johnny Johnny Yes Papa.
The Massacre: The final episode of the series. After Moo got murdered, he causes the biggest massacre on the farm. Song: Bye Bye
Reception
Biased Ratings gave it a 0/10 due to low quality songs.
Mrs. Nesbitt gave it a 11/10 due to blood.
The "show" won an Webby award despite the BLOOD AND GORE.
This show airs on Adult Swim every day.
Community content is available under
CC-BY-SA
unless otherwise noted.