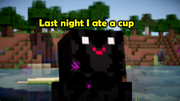 Oops! Maybe you were looking for the pedofile and hideous monster, or possibly it's father.
Endermen are hideous tall toilet papers who steal blocks from you and eat it. They are well-known to be ugly. Endermen's weakness is water. 
Folk legend
According to the legend, when two endermen are talking, some n00b approached near them and started laughing. The second endermen went to the Mojang Office to ask Notch and Jeb only to find that they are laughing in a painting that shows an enderman with a text that says "I have 18 nipples".
The enderman became sad and decided to gather all the endermen and said the truth. Now the endermen are shy and they don't show there self to others. 
Ability
Teleportation is the only ability that the endermen have. Everytime you hit them they will teleport. They cannot teleport if you put obsidian on them.