Not to be confused with one and only Ducky!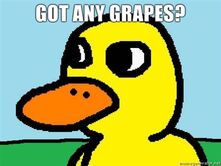 Ducks are annoying beings coming from the Seventh Gate of Hell that ask for grapes. Yellow ducks are the most annoying ducks that can be found here in Earth. They will come near you and will ask for grapes. If you don't have one, buy now, otherwise they will come back again and again. You can determine the annoyingness of ducks by their color schemes.
BROWN = ANNOYING LEVEL: 3500
GREEN = ANNOYING LEVEL: 4000
WHITE = ANNOYING LEVEL: 5000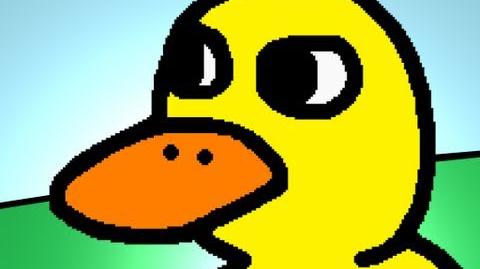 YELLOW = ANNOYING LEVEL: IT'S OVER 9000!!! 
If you want to get revenge on these fowl beasts, we recommend playing Duck Hunt, not because you shoot ducks, but rather the Laughing Dog will eventually get on your nerves more. Don't bother fighting against Ducky in The Old War, for Ducky is not really a duck.
Ducky can not be defeated.
Food That Ducks Eat
Grapes
Grapes
Grapes
Grapes
Grapes
Grapes
Grape seeds
Grapes
Grapes
Grapes
Grapes
Lemonade
Grapes
Community content is available under
CC-BY-SA
unless otherwise noted.