Dora Thexplorer
is a petite Latina
dwarf
. She has starred in her own TV series since her birth year. She is currently 16 years old, yet she still acts (and looks) like a young 4 year old. She was supposedly 7 or 8 years old when she debuted, but she lies about her age, so it doesn't matter.
Pets
Dora likes to steal animals and other weird things for her explorers collection. She has a Boots, Map, and Backpack. Her favorite pet, however, is a Swiper. She also has three recurring (not cared for) pets including Azul the cow, Green the lizard, and a squirrel called, you guessed it, backpack. She also obesified a chikin and colored it red.
Age
She is supposed to be 7 or 8 years old at her debut, but she was a tween in her next version. However, these ages don't seem too accurate given her outrageous general looks. According to a website called "How Old", she does not have a face, therefore she has no age. Her mental age is equivalent to a tin can, shown when she can't even locate things that are right next to her.
Secret
As you can tell by her picture, her shirt is not covering her entire stomach. There are several reasons for this.
Because she has more meat on her body than the average human bean.
She cannot take it off due to her extremely-deadly-large head.
To show that she is not sunburned on her arms, legs, and face, but that she naturally has Trump-colored skin.
She wants to be like Miley Cyrus.
Timeline
1999: Born
2000: TV Star
2005: Cousin is born, and she becomes jealous.
2009: Finally grew taller, then smaller
2011: Her cousin leaves the spotlight.
2014: Becomes lazy and quits her TV show.
2014: Goes back to being taller.
2017: UNKNOWN
Snapchat on Dora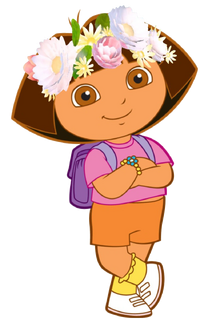 Community content is available under
CC-BY-SA
unless otherwise noted.