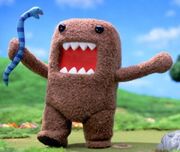 Domo-kuns (also known as just Domos, or by the alternative name of Grues) are a species of monster that is native to Kittehlandia. They come in many colours, but the most common colour is brown. Pink Domos are also common, but not as extremely common as brown ones.
Untamed Domos will try to eat anyone they see. They can be tamed and domesticated, but even then, they are mainly used to guard dangerous places, like Teletubby Land and the Loud House.
Domos are used by several evil groups as disposable minions, including the Teletubbies, the Loud House, and the Satanist Empire.
Domos are known for eating cats. As a result of humanity's love for cats, Domos have come close to extinction many times, due to hunting them to protect the kitties. However, nowadays, Domo populations have been increasing rapidly, due to people breeding them to protect their evil lairs, and their conservation status is Least Concern as a result.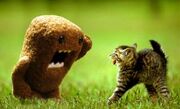 Untamed Domos will also eat humans, Weegee clones, lolcats, and other sentient species. In fact, like the Cookie Monster, they will eat anything. Domos are hard to tame, but once they're tame, they will love their master for life.