DIPSY! GET OUT OF HERE YOU STUPID MORON
is episode 53 of the
Teletubbies (TV Series)
.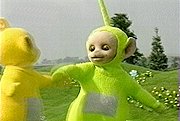 Plot
It starts off with Laa-Laa trying to talk with the other Teletubbies, but they ignore her. So she talks to the Talking Flowers.They say interesting things.Tinky Winky goes up to Laa-Laa. Laa-Laa tells Tinky Winky to go talk to Dipsy,So He goes to find dipsy.
Tinky Winky tells Dipsy to go to Laa-Laa.So he does. Laa-Laa is listening to the flowers when Dipsy comes, and constantly annoys her. He then gets in Laa-Laa's way' so she says DIPSY! GET OUT OF HERE YOU STUPID MORON Dipsy then runs away, crying like a baby. Laa-Laa continues to listen to the flowers, but then Noo-Noo appears and sucks them up. He then goes crazy and kills Noo-Noo and everything in Teletubby Land.
Trivia
However, it did feature Thumper,During Laa-Laa's breakdown
Community content is available under
CC-BY-SA
unless otherwise noted.