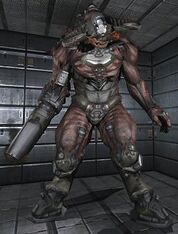 The Cyberdemon is a monster with hi-tech weaponry, and is on the Top 20 Most Wanted, ranked currently at #10 for raiding a military base on a moon, stealing valuables, and for the destruction of the Space Ops Tower. He is feared by many, and is in work with many other high-ranked criminals (including being a Weegee minion). The Space Bureau has made many attempts to capture him, some were successful (but kept breaking out of the prison). He sometimes works with the Counter-Strike Mutants to lay waste to many operative bases that are out to destroy evil.
He also invaded Valve's office to make himself the antagonist of Full-Life: I can't count to I I I! and Team Fortress -2.
He also hid a couple images in his theme.
Community content is available under
CC-BY-SA
unless otherwise noted.