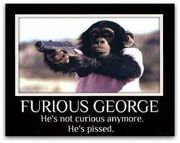 Curious George was a massively popular UnAmerican action/comedy film. It stared Ron Burgundy as The Man with the Yellow Hat and Bobo the Monkey as George. It is distributed by Wario Bros. Pictures.
Plot
The Man with the Yellow Hat (MWTYH) finds a stray monkey wearing a bandana and names it "George." He brings it home to his apartment. All of a sudden, the MIB (Men in Black) show up and tell the MWTYH that it is unlegal to keep a monkey with a bandana but the MIB are both shot by George who had discovered the MWTYH's gun. Lets call The Man with the Yellow Hat Ted for now, okay?
Ted brings George out to town while reading the newspaper which says: Breaking News: Killer Mutant goat man escapes from a lab in Salem! Ted laughs and tells George that he has to go to work in SALEM. They take a train to Salem but when it arrives Ted gets called out of work due to the Goat. Except thanks to the Mutant Goat, the train station is closed.
George gets caught by animal control but an intern plots to help him escape. Ted runs off into the woods to look for George but he is by LOBC (League of Big Cats) who help him look for George while Tigger, the leader of LOBC is interested by a furry thing. The thing turns out to be the Goat which lunges at Ted and pins him to the ground. George comes flying out of nowhere with a pistol and starts shooting the Mutant Goat repeatedly but it gets up and whacks George into a tree but then Ted pulls a sword out of his hat and stabs the Goat and tells George to get to the Train while he and LOBC fight the Goat. George escapes safely back to his home and calls the SWAT. Back in Salem the Goat is about to kill Ted but then it is rammed and killed by a SWAT car driven by George. The scene shifts to Ted and George in the apartment getting ready for bed and the movie ends.