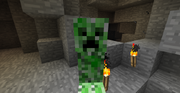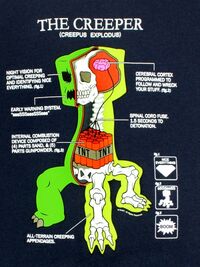 Not to be confused with Pedo Bear.

A Creeper (Creepus Explodus) is a type of living breathing bomb. They wander around Minecraft until some foolish human decides to turn their back. That's when the creeper self destructs, often causing the stupid human to die and/or scream every profanity they know. Creepers are the second leading cause of bullshit in the Minecraft community, right after n00bs.
Nobody knows exactly where creepers came from, but one day they randomly burst through the portal into Minecraft, resulting in The Night of a Thousand Creepers. After this, Steve blamed the UnUniverse for unleashing these creatures. In reality, the UnUniverse had nothing to do with it. The only thing known about the origin of these creatures is the fact that they are probably from somewhere radioactive...
Creepers are responsible for OVER 9000 UnDollars of property damage. Steve is currently trying to exterminate them, but Notch just keeps spawning more and more. The creeper will forever be the bane of Minecraft.
Some random being named "Super Minecraft Kid" cut one of their faces off and used it as a mask, that's just as scary.
Things Creepers Likez To Asplode
Things Creepers TRY to asplode
Community content is available under
CC-BY-SA
unless otherwise noted.