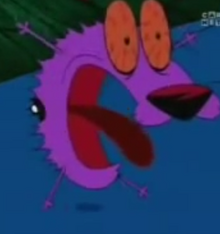 Courage The Cowardly Dork Dog
Is some random cowardly dog (DUH) who somehow decides to face creepy stuff. He likes screaming,alot,hes screamed so much that he somehow never gets a soar throat. He also apparently can talk cause logic is stupid. He was some useless abandoned pup,
Nobody
knows how this happened,he was adopted by Eustance Stupid Dog Bagge and Murial Bagge they live in The Middle of Nowhere and decide its a good idea to check out creepy stuff. COurage screams whenn they do this. He is the main character of the Courage The Cowardly Dog Show.
Community content is available under
CC-BY-SA
unless otherwise noted.