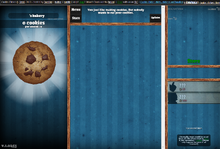 Cookie Clicker is an awesome shame made by Orteil to hypnotize people into making him famous. It has gained alot of popularity and most of the lower group of popular Youtubers have been hypnotized to play it all night. There have been many rumors that there is a special reward at the end, but this game has no end so Nobody (not even the Undefeatables) know what it is, even the grandmas always point out that it will all be over soon, but its never over and you continue being hypnotized.
Shameplay
The game starts by you being on a blank screen with a cookie and a few other things,if your not a idiot you will click the cookie ad notice there's achievements. After you click it 15 times "Cursor" will pop up and you SHOULD click it,it will automatically make cookies for you..very slowly... SO you keep clicking the cookie and "Grandma" pops up. Buy this thing and a few more cursors if you can. BY now,you wil have noticed there are upgrades and buy one and notice 2 PER CLICK! YAAAAAY!!! If you want to learn more about this game, play it.
Link to the game
Here is a link to the contraption:
Community content is available under
CC-BY-SA
unless otherwise noted.