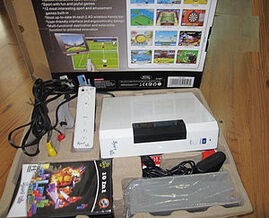 We include so many deformed cats!
  —The tagline of this system.
The Chintendo Vii is the outcome of the Bologna-Shishkebab Elephant War when the Chinese accidentally sold their land for a souvenir t-shirt of China. Since they would do anything to get their land, they made the Vii for the Shiskababites. The horrible monster who made this device is Shigeru Miyamoto's evil stepbrother, Pu Pu Kok! (evil music plays) He also stole Shigeru's idea.
How the "Marvelous Device" Works
The Chinese thought CD-Based Gaming was too expensive, so they used dried up bread crumbs and byproducts of pachyderm fungi walruses compressed into a flat rectangle shape with sticker labels on them. The main system converts it to a crappy format where all of the playable characters end up looking like deformed burritos.
Common logic folks.

The Awesome Shames That Were Formatted To This System...
Since China doesn't have many ideas for game ideas (maybe mutated cats), they copied great shames to this system (abomination to mankind). They did not make many selections for shames.